Solar Hot Water Rockhampton
EcoSmart Solar Hot Water systems, Australian Made and Australian Owned!
For the most efficient, Premium range of solar hot water systems, look no further than EcoSmart™ Hot Water. At EcoSmart we pride ourselves on providing you with an environmentally friendly hot water solution, which will reduce your hot water energy bill by as much as 80%and eliminate tons of Greenhouse gases per year.
EcoSmart Solar offers a complete range of energy efficient hot water systems.
Class leading Electric Boosted Split systems, backed by our standard 7 year warranty, giving you a choice of tank sizes; 250L, 315L or 400L, and 1, 2 or 3 panel systems, depending on your hot water requirements. Gas boosted split systems are also available.
Our traditional 316 Marine Grade Stainless Steel Roof Mounted solar hot water with a choice of electric or gas boosting, backed by our market leading 10 year standard warranty.
For those whose home is not suitable for solar we have the environmentally friendly EcoSmart Heat Pump, the most efficient, quietest heat pump in its class on the Australian market.
EcoSmart Hot Water systems are available on a No Interest Ever Repayment Plan*. Simply pay 25% of the total up-front cost, then repay the rest via monthly direct debit over 24 months.
Has your hot water system broken down? We offer you a 24 Hour Hot Water Guarantee! Simply commit to purchase an EcoSmart Hot Water system and our qualified trades people will give you hot water within 24 hours, guaranteed!
Contact EcoSmart Solar toll free on (07) 4927 1144 for all your Solar Hot Water needs today.
Click here to request your free quote online »
Reasons to buy Solar Hot Water with EcoSmart:
Australian Made, Australian Owned
Rockhampton based company
Personal Service, Customized Advice
Most Efficient Systems
Help With Rebates
Highly Trained Master Installers
Reduce Your Electricity Bill
Help The Environment
Best Warranties
Roof Mounted Systems, Split Systems & Heat Pumps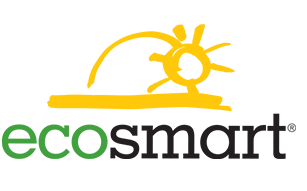 Download detailed information and specifications »
*Conditions apply